Water Company
Tomascak Plumbing operates and maintains our water distribution system that runs throughout the Shores. A recent upgrade of the water delivery system has just been completed in Dec. 2016, and incorporates the latest technology in electronic controls, booster pumps and switching systems.  It replaces an antiquated system, which will ensure reliable water delivery throughout the community.
Tomascak Plumbing also monitors the 8 wells and pumps for those wells. We have a pump house and a pressure station along with two storage tanks. The water is tested regularly to ensure that all health standards are met. Chlorine testing is done daily, and monthly testing is done by Hydro Technologies in New Milford, Ct. The test results are sent monthly to the Department of Health in Hartford.
Candlewood Shores has two holding tanks, one has the capacity of 104,000 gallons of water and the other holds 20,000 gallons. These tanks provide approximately a 3-day buffer in case of a disruption. The pump house and the pressure station both have back up propane generators, which come on if there is a power outage so residents always have water.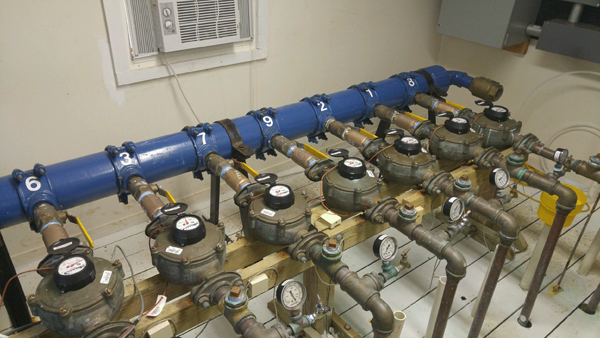 All meters and modules in every home have been upgraded to a radio-based transmitter. This allows our maintenance crew to read the meters just by driving by each residence. The readings are collected in a hand-held unit that can be uploaded to the software housed in the Administration Building. This is done at the beginning of each month and bills are sent every 4 months. These meters are very important to ensuring the accurate water usage readings and billing.
PLEASE REMEMBER TO CONSERVE WATER