Welcome to Candlewood Shores
Candlewood Shores is a private community located on beautiful Candlewood Lake in Brookfield, CT. It is a community of just over 500 homes, ranging in style and price from original cottages from the 1950's to large multistory lakefront homes.  The neighborhood consists of both full time and part time residents. The location is convenient to major highways and shopping of all types, only 90 minutes from NYC, 45 minutes from Stamford, CT and White Plains, NY.
Candlewood Shore's homeowners enjoy the beach, boating, playground facilities and a variety of planned activities. Many families agree our beach is one of the prettiest and well maintained on the lake. Given the many varied activities and events, the neighborhood offers something for everyone.
General Information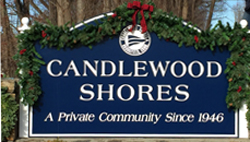 55 Longview Dr
Brookfield, CT 06804-1414 CSTDOffice@candlewoodshores.com
Phone: (203) 775-1172
Fax: (203) 775-5919
Travis Hyatt
Community Manager
203-790-6888 ext. 683
CommunityManager@candlewoodshores.com
Emergencies: In the event of an emergency, and the office is not open, please call the Brookfield Police Department at 203.775.2575
News & Announcements
Candlewood Shores Tax District Notice of Special Public Meeting
We would like to inform the community of a special public meeting, the purpose of which is to approve a contractor and to reallocate existing funds to install a Beach Fence. ​ The meeting will also include discussion on changes to the ordinances.  The meeting will take place on Wednesday, March 20, 2019 at 7:00pm at the Candlewood Shores clubhouse (55 Longview Drive, Brookfield, CT  06804).
 Please call the office at 203-775-1172 or Scalzo Property Management at 203-790-6888 if you have questions.
Small Vessel Registration: Begins Monday, April 16th. This registration is required only for those owners who would like to store their kayak, canoe,  or row boat on a rack at the boat ramp area for the boating season. Rack assignment will be done at the office and will be first come, first served.
Adult/Senior Events Coordinator : CSTD Recreation Committee is looking for someone who would be interested in volunteering to coordinate different events for adults/seniors (yoga classes, wine & cheese tastings, shuffle board tournaments, age-appropriate move nights, etc.). If you are interested, please contact Melanie Shapiro at melanie729@gmail.com.
Reminder about Golf Cart Usage in CSTD: All unregistered golf carts must be operated by a driver with a valid driver's license. The vehicle being operated is limited to daylight hours only and must be equipped with an operable horn and flag to assist operators of motor vehicles in observing your location. Also, the vehicle may not transport more passengers than is recommended.