Welcome to Candlewood Shores
Candlewood Shores is a private community located on beautiful Candlewood Lake in Brookfield, CT. It is a community of just over 500 homes, ranging in style and price from original cottages from the 1950's to large multistory lakefront homes.  The neighborhood consists of both full time and part time residents. The location is convenient to major highways and shopping of all types, only 90 minutes from NYC, 45 minutes from Stamford, CT and White Plains, NY.
Candlewood Shore's homeowners enjoy the beach, boating, playground facilities and a variety of planned activities. Many families agree our beach is one of the prettiest and well maintained on the lake. Given the many varied activities and events, the neighborhood offers something for everyone.
General Information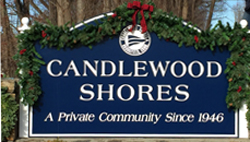 55 Longview Dr
Brookfield, CT 06804-1414 CSTDOffice@candlewoodshores.com
Phone: (203) 775-1172
Fax: (203) 775-5919
Travis Hyatt
Community Manager
203-790-6888 ext. 683
CommunityManager@candlewoodshores.com
Emergencies: In the event of an emergency, and the office is not open, please call the Brookfield Police Department at 203.775.2575
News & Announcements
Click on the following link for the Candlewood Shores Spring 2018 newsletter: Spring 2018 Newsletter
Storm Brush Right-of-Way Pick-Up Schedule:  1 – 66 Clearview South, Candlewood Shores Road: August 6 – August 10; Bayview, Berkshire, Dogwood, Harvard, Lilac, Kellogg, Longview, South Lake Shore:  August 13 – August 17; North Lake Shore:  August 20 – August 24; Skyline, Mountainview, Twilight, 68 – 99 Clearview: August 27 – August 31
Storm Brush Pick-Up and Playground Special Meeting: A meeting will be held on Tuesday, July 17, 2018, at 7:30pm, in the community room at 55 Longview Drive, to discuss and vote on the following: funding for right-of-way storm brush pick-up and additional funding for the playground retaining wall and fence. Please remember to bring ID with you.
Storm Damage Email Address: The following dedicated email address has been created for residents to submit photos and documentation of Candlewood Shores storm damage to the Board: stormdamage@candlewoodshores.com. Information submitted to this address will be used to help support the Tax District's application for FEMA assistance, should the President declare Brookfield and Fairfield County a disaster. Please call the office at 203-775-1172 or Scalzo Property Management at 203-790-6888 if you have questions.
Attention Skyline Drive Residents: On Wednesday, July 11th, starting at 10:00am, generator components for the water system will be tested. This is expected to cause low water pressure on Skyline Drive only, for approximately one hour. We apologize for the inconvenience and appreciate your understanding.
Please Do Not Dispose of Brush on Right-of-Way: It has been brought to our attention that some homeowners are placing new brush that is not related to the May storm, on the right-of-way. Please understand that this practice could endanger any potential FEMA funds for the Tax District. In light of this, the Board asks that homeowners do not dispose of any more brush on the right-of-way until further notice. We also ask owners who have placed new brush to please remove it from the right-of-way. We thank you for your cooperation and understanding.
Small Vessel Registration: Begins Monday, April 16th. This registration is required only for those owners who would like to store their kayak, canoe,  or row boat on a rack at the boat ramp area for the boating season. Rack assignment will be done at the office and will be first come, first served.
Adult/Senior Events Coordinator : CSTD Recreation Committee is looking for someone who would be interested in volunteering to coordinate different events for adults/seniors (yoga classes, wine & cheese tastings, shuffle board tournaments, age-appropriate move nights, etc.). If you are interested, please contact Melanie Shapiro at melanie729@gmail.com.
Reminder about Golf Cart Usage in CSTD: All unregistered golf carts must be operated by a driver with a valid driver's license. The vehicle being operated is limited to daylight hours only and must be equipped with an operable horn and flag to assist operators of motor vehicles in observing your location. Also, the vehicle may not transport more passengers than is recommended.