Welcome to Candlewood Shores
Candlewood Shores is a private community located on beautiful Candlewood Lake in Brookfield, CT. It is a community of just over 500 homes, ranging in style and price from original cottages from the 1950's to large multistory lakefront homes.  The neighborhood consists of both full time and part time residents. The location is convenient to major highways and shopping of all types, only 90 minutes from NYC, 45 minutes from Stamford, CT and White Plains, NY.
Candlewood Shore's homeowners enjoy the beach, boating, playground facilities and a variety of planned activities. Many families agree our beach is one of the prettiest and well maintained on the lake. Given the many varied activities and events, the neighborhood offers something for everyone.
General Information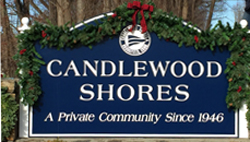 55 Longview Dr
Brookfield, CT 06804-1414 cstdoffice@scalzoproperty.com
Phone: (203) 775-1172
Travis Hyatt
Community Manager
203-790-6888 ext. 683
CommunityManager@candlewoodshores.com
Emergencies: In the event of an emergency, and the office is not open, please call the Brookfield Police Department at 203.775.2575
News & Announcements
Board Meeting-Wednesday, March 17th, 7:30 pm via Zoom
Click Here 
Use passcode: e0@d$LYW
Ordinance Meetings-Monday, March 8th and Monday, March 22nd, 2021 7:00pm via Zoom
Join Zoom Meeting
https://zoom.us/j/93621243329?pwd=T0k0YnFSeWNxUHRlN3JEbGs3aTF6dz09
Passcode: 337420
Please call the onsite office at 203-775-1172 or email cstdoffice@scalzoproperty.com with any questions.